The pristine beauty of Białowieża nature and a wide range of attractions on site encourage the organization of all types of events and team-building meetings. Our apartments will provide you with both the essential facilities for holding a variety of events, and excellent accommodation standard for guests. If you wish to have a great time, it is really worth choosing this destination because it allows you to admire the beauty of the area while strengthening team bonds. Enklawa Białowieża is therefore an ideal point on the map of Poland to experience a fantastic and unforgettable adventure together with your colleagues.
An oasis for business
Whatever the nature of your trip, you will find a comprehensively equipped conference room, the so-called Black and White room accommodating up to 40 people, suitable for, among other things: conferences, conventions, board meetings, special events, and less formal business meetings. What is more, as owners, we pay great attention to maintaining the highest standards of service for our clients and provide assistance at every stage of similar events.
A successful outdoor party
In the spring-summer season, we invite you to a large event tent for 150 guests, with a special place for a bonfire nearby. Guests can have a barbecue there, or join an event such as a wild boar roast, which is always an original and successful idea.
In the recreational park, on the other hand, party guests are free to use the saunas (2 saunas for 6 people each), the swimming pool (including winter swimming), and the outdoor Jacuzzi. Sauna Parties are now a popular trend. For this purpose, we are happy to rent the SPA zone for exclusive use (up to 20 people, with the right number of people and in advance). The same applies to the entire resort.
Cozy and atmospheric interiors
Cozy and atmospheric interiors In addition, the secluded location creates an atmosphere of relaxation and tranquility, while the extensive grounds guarantee the desired privacy. What is more, the resort offers spacious apartments with kitchens, arranged in a trendy and harmonious style
Subdued colors, graceful decorations, and creative solutions will appeal to even the most picky customers and admirers of aesthetic delights. The apartments differ from each other, which is why each interior is so surprising and unique at the same time. In short, comfort and visual aspect go in unison here, which encourages satisfied customers to return.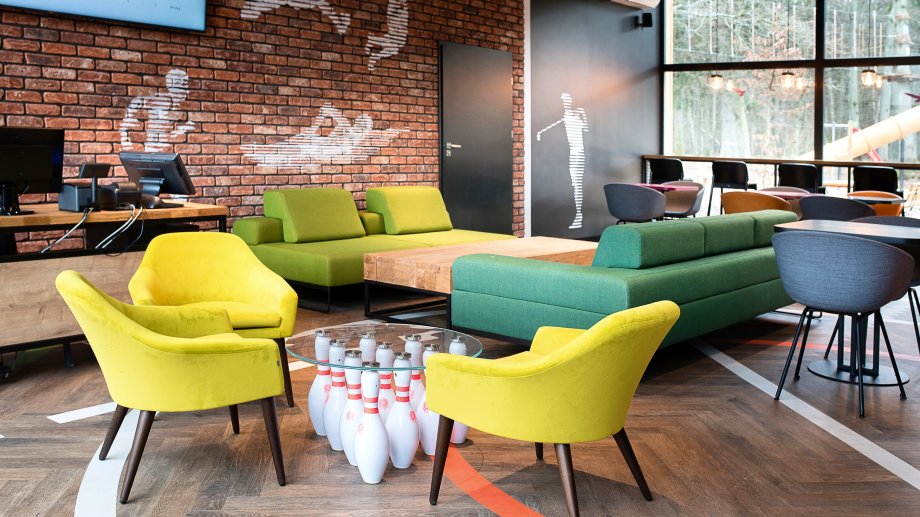 Active and creative
When it comes to sports activities, Enklawa Białowieska offers workshops or team building competitions in various disciplines. You will find a rope park and the sports fields. We also organize guided tours for guests (the wilderness area and sightseeing in the region). A company team-building event in Podlasie is a guarantee of delicious food in the local restaurant and a customized menu tailored to the different needs of guests (individual company budgets for food). In Białowieża you will regenerate and recharge your batteries before new professional challenges. The subtle hum of the forest, the scent of the trees, the chirping of birds and clean air will soothe your battered nerves and help you gather your thoughts. Once you return home, you will notice the positive effects of your stay had on your body and the productivity of your employees for a long time. After all, nothing works better than a proper rest.